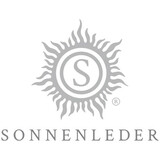 Instead of mass production that is as "flawless" as possible, here, the special nature of the material is celebrated.
In Japanese culture furniture is made of wood that is shaped according to the individual growth rate. The people at Sonnenleder have a similar relationship to their leather.

Sonnenleder sets its own standards when it comes to the terms "genuine leather" and "quality" - and has done so since its foundation in 1986. Genuine leather is precious; it lives, breathes and smells. Attempts to imitate it fail because of these very qualities. The leather used for Sonnenleder has retained its natural character. The traditional art of tanning consists precisely in distorting the characters as little as possible.

The only way to guarantee this is to process leather is through seven generations of experience with purely vegetable tanning and production locations in Germany. Sonnenleder quality guarantees the durability of selected materials, solid craftsmanship and the creation of a unique patina on the leather surface.