Wagenfeld Tischleuchte WA24, Tecnolumen
EEK: A++ (Spektrum A++ bis E)
A++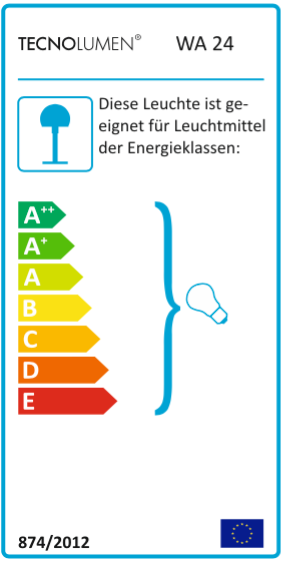 excl. Shipping costs
(Free shipping in Germany from a total value of 100 Euros)
3 % discount for prepayment (by bank transfer) : 619.83 €
You save 19.17 €
excl. Shipping costs
(Free shipping in Germany from a total value of 100 Euros)
3 % discount for prepayment (by bank transfer) : 520.87 €
You save 16.11 €
Achtung! Diese Ware ist eine Sonderanfertigung und vom Umtausch ausgeschlossen!
* Achtung! Diese Ware ist derzeit vergriffen!
Diese Ware kann nicht in unserem Onlineshop erworben werden. Bei Interesse kontaktieren Sie uns gerne.
Die Tecnolumen Wagenfeld WA24 Tischleuchte basiert auf dem Entwurf des Pioniers W. Wagenfeld und ist seit jeher Designklassikern der Bauhaus-Epoche.

Gute Ware. Gute Form. Das repräsentiert die WA24. 1924 von einem Gesellen der Bauhaus Werkstatt in Weimar konzipiert, wird die zeitlose WA24 Wagenfeld Tischleuchte heute allein von Tecnolumen mit besonderer Hingabe für Bauhaus Design nach Originalangaben in Maßen und Material gefertigt.

Kaum ein anderer Designklassiker verkörpert so erfolgreich die Bauhaus-Philosophie und das Streben nach Industriedesign in Kombination mit besonderer Formgestaltung.

Tecnolumen produziert vier verschiedene Versionen dieser Leuchte, alle authentische Entwürfe von Wagenfeld. Die WA24 wird aus vernickeltem Metall und mundgeblasenem Opalglas gefertigt.

Alle Leuchten tragen das Bauhaus- und Tecnolumen-Zeichen und erscheinen in der einzigen urheberrechtlich geschützten Reedition.
Bundespreis "Gute Form", 1982
Seit 1986 im Shop des Museums of Modern Art in New York

| | |
| --- | --- |
| Item number | WA24 |
| Dimensions | 36 x 18 x 18 cm |
| Functionality | Tischleuchte |
| Diameter | Schirm Ø 18 cm, Fuß Ø 15.2 cm |
| Material | Metallteile vernickelt, Klarglas, Glas opalüberfangen |
| Lamp socket/ Lamp | E 27, max. 75 W |
| Energy class | EEK: A++ (Spektrum A++ bis E) |
| Mass | 2.5 kg |
| Year of creation | 1924 |
| Production place | Bremen, Deutschland |
| Awards | Bundespreis "Gute Form", 1982 |
| Hint | Seit 1986 im Shop des Museums of Modern Art in New York |
Bundespreis "Gute Form" 1982
We believe that a truly good product is inherently beautiful and useful. This kind of beauty does not happen by accident though! At Formost we do not only find good products for you but we test them and tell the stories of the people behind these products. This way you experience a story while receiving something which shall last for generations and accumulate some nice stories itself.