Jugendstilfliese, Untersetzer Golem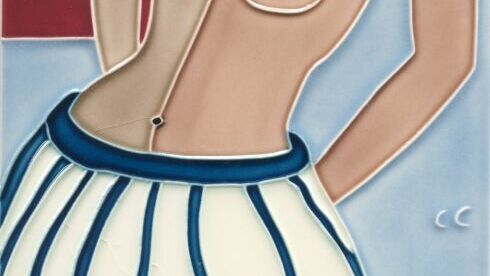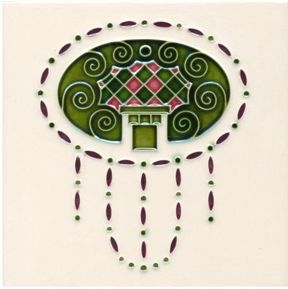 Den Jugendstil bestimmten florale, der Natur entlehnte Ornamente.

Art Nouveau is an art-historical epoch, originating around 1900 in England and France and quickly attaining worldwide significance. It influenced almost all areas of applied and visual art, with the idea of a fusion of art and life. A typical feature is the decorative style with long, curved lines, which are based on flat, linear ornaments. The high-quality, exotic materials were often excellently processed, which is why he is still considered artistic and elitist today.
Since all areas from interior decoration to architecture were influenced by this style, it created a broad economic basis for artists and craftsmen. The highest quality of craftsmanship and artisan refinement stands for Art Nouveau, just as the works of important artists of this time demonstrate their unique stylistic features. Hardly any other movement has achieved such a connection again, with the same acceptance among contemporaries.
With the Viennese Secession and the Wiener Werkstätten, Formost concentrated on the German-speaking countries and in particular the great artist, thinker and teacher Henry van der Velde was at the centre of our interest.
As an outstanding designer, his life's work combines Jugendstil with the founding of the Deutscher Werkbund and the Bauhaus in Weimar. Ultimately, Wilhelm Wagenfeld felt so close to this artist that he stayed in Weimar when the Bauhaus moved to Dessau.
With its sensuousness and nature as a source of design, Art Nouveau continues to be a source of inspiration for young designers to the present day, and especially in the textile sector where there are regularly amazing redesigns with roots in Art Nouveau.
read more
Schon der Urgroßvater des aktuellen Geschäftsführers hat sich den Künstlern der Wiener Werkstätte zugewandt. Bis heute kommen die Gestalter aus unterschiedlichen Bereichen, sie sind Maler, Architekten oder Designer. So reicht auch ihr Repertoire vom klassischen Zylinderbecher von Adolf Loos hin zum Martini- und Champagnerglas von Oswald Haerdtl aus 1925 und Superklassiker-Glas aus 1856 vom Ludwig Lobmeyr.

Lobmeyr bricht die Selbstverständlichkeit des allgegenwärtigen Werkstoffs auf und trägt dessen Eleganz und Feinheit zurück in den Alltag.

Der Gründer von FORMOST Matthias Kanter erzählt über das feine mundgeblasene Musselinglas.

Wenn man das allererste Mal ein Produkt von Lobmeyr in der Hand hält, spührt man dessen hohe Qualität und Feinheit. Lobmeyr ist einer der wenigen Hersteller, der die Glasbläserkunst par excellence beherrscht.

Als einer der Hauptproduzenten der Wiener Werkstätten ist Backhausen Schnittstelle vieler Pioniere der Moderne. Seit Anbeginn bis heute pflegt das Unternehmen eine enge Zusammenarbeit mit Künstlern und auch jungen Designern. Die epochalen Werke von Josef Hoffmann, Koloman Moser und anderen dienen bis heute als wertvolle Inspirationsquelle für das Kreativteam des Designateliers.

1929 entwarf Josef Hoffmann, dieses weltberühmte Moccaservice. Er war einer der größten Gestalter des 20. Jahrhunderts und Mitglied der "Wiener Sezession". Es stellt aufgrund seiner Rundungen höchste Anforderungen in der Handhabung des Luftpinsels an die Porzellanmaler von Augarten. Die Exotik der Fruchtformen mit dem kecken Stielknauf sowie die angenehm griffigen Henkel, deren leise Wellenform die weich gerippte Wandung der Gefäße elegant spiegeln, prägen die Ausstrahlung dieses Services.

Die Jugendstilfliesen werden heute noch genau so produziert, wie sie um 1900. Bei der Modellherstellung und Glasurentwicklung wird auf ein authentisches Erscheinungsbild geachtet. Egal ob Steg-, Hochrelief oder Schlicker, die Techniken sind diejenigen, die schon bei der Herstellung der Originale Verwendung fanden. Die Motive werden nicht gedruckt, sondern in Handarbeit mit Glasuren gemalt. Jede Dekorfliese ist ein denkmalgerechtes Replikat.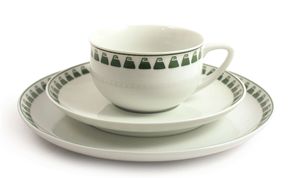 Es bedarf der Idee, großer Leidenschaft und persönlicher Kompetenz um ein Porzellan aus der schon lange nicht mehr existierenden Porzellanmanufaktur Burgau als Replik wieder zu beleben und in limitierter Auflage herzustellen. Die Designerin Christina Klauer nahme das 1914 von Henry van der Velde entworfene Gedeck auf, das heute bei Reichenbach hergestellt wird.