Designer nannten sich mal Gestalter und später Formgestalter.
Da wirkliche schöne Dinge nicht zufällig entstehen und oft Hersteller und Designer Außerordentliches leisten, erzählt Formost von den Menschen hinter den Produkten. Der Designer, der ein kurzfristiges Modeupdate zur besseren Verkäuflichkeit als seine Kernkompetenz empfindet, kommt bei Formost dafür nicht vor.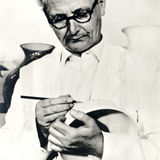 Wilhelm Wagenfeld ist für die Idee von FORMOST die zentrale Gestalterpersönlichkeit! Seine Idee der "guten Waren" war für Formgestalter in Ost und West Anregung und Maßstab.

Vorratsgeschirr "Kubus", Vereinigte Lausitzer Glaswerke, 1938/39

Bauhausleuchte, Metallversion, Staatliches Bauhaus Weimar, 1934

Teeservice, Jenaer Glaswerk Schott & Gen., 1931

Salz-Pfeffer-Streuer "Max + Moritz", WMF, 1954/56

Besteck "Form", WMF, 1949/52
German Association of Craftsmen
We believe that a truly good product is inherently beautiful and useful. This kind of beauty does not happen by accident though! At Formost we do not only find good products for you but we test them and tell the stories of the people behind these products. This way you experience a story while receiving something which shall last for generations and accumulate some nice stories itself.