Designers once called themselves creators and later form-creators.
Since really beautiful things do not happen by chance and manufacturers and designers often achieve extraordinary things, Formost tells stories about the people behind the products and how they are made. The designer, who considers short-term fashion updates to be his core competence, does not appear in the Formost.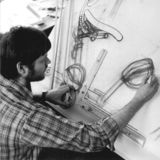 Werkdesign ist Kooperation oder Bescheidenheit ... uns gefällt das!
Produktdesign war und ist für die wenigsten Hersteller ein wichtiges Thema, auch wenn uns immer neue Designpreise anderes glauben lassen.
Noch seltener wird damit ein professioneller Designer beauftragt und dieser auch namentlich genannt. Dass damit zwangsläufig schlecht gestaltete Produkte entstehen, widerlegen manche Lösungen der hauseigenen Praktiker, die auf so stimmige Weise Form und Funktion verbinden, dass manchmal sogar Designklassiker entstehen.
Darüber hinaus dient uns dieser Begriff dort, wo unsere Recherche beim Finden des Urhebers noch erfolglos war.
We believe that a truly good product is inherently beautiful and useful. This kind of beauty does not happen by accident though! At Formost we do not only find good products for you but we test them and tell the stories of the people behind these products. This way you experience a story while receiving something which shall last for generations and accumulate some nice stories itself.