Designer nannten sich mal Gestalter und später Formgestalter.
Da wirkliche schöne Dinge nicht zufällig entstehen und oft Hersteller und Designer Außerordentliches leisten, erzählt Formost von den Menschen hinter den Produkten. Der Designer, der ein kurzfristiges Modeupdate zur besseren Verkäuflichkeit als seine Kernkompetenz empfindet, kommt bei Formost dafür nicht vor.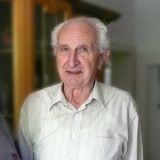 Wolfgang Dyroff ist zu den bedeutsamen ostdeutschen Industriedesigner zu zählen. Viele seiner Entwürfe fanden sich in Haushalten, Gerätschaften und Fahrzeugen wieder.

»Mich hat stets umgetrieben, was der amerikanische Designpionier Raymond Loewy einmal sinngemäß so ausgedrückt hat: Einen Traktor zu gestalten, ist kein so großes Problem. Aber eine Nähnadel besser zu machen!« ( zit. n. Höhne 2001 )

In der Nachkriegszeit war Wolfgang Dyroff in der Arbeitsgemeinschaft von Horst Michel beim Aufbau der Hochschule in Weimar tätig. (1946-1951)

Anschließend begann er das Studium in der Klasse für Industrielle Formgebung bei Horst Michel an der Hochschule für Baukunst und Bildende Künste in Weimar und wurde nach dem Studium wissenschaftlicher Mitarbeiter.

Wolfgang Dyroff entwarf zahlreiche Möbelbeschläge und Türdrücker für die Produktion in der DDR. Besonders herausragend ist ein Türdrücker in geschwungener Form, den Dyroff 1956 speziell für ein Labor entwickelt hat, um so das Öffnen der Tür mit dem Unterarm zu ermöglichen. Noch am Institut für Innengestaltung begann Dyroff die Zusammenarbeit mit der Automobilindustrie. Für den »Wartburg« entwarf er ein Armaturenbrett und für den »Trabant P 50« den Autotürgriff. Ab 1959 zog es Wolfgang Dyroff nach Berlin, dort war er an zahlreichen Instituten künstlerischer Mitarbeiter.

In seiner Berliner Zeit arbeitete er erfolgreich als Designer. Es entstanden Leuchten aus Metall sowie die Schalterserie »System 80« für Lichtschalter und Steckdosen. Das »System 80« wurde in den 1960er Jahren in Wohnungsbauten tausendfach montiert.

German Association of Craftsmen
We believe that a truly good product is inherently beautiful and useful. This kind of beauty does not happen by accident though! At Formost we do not only find good products for you but we test them and tell the stories of the people behind these products. This way you experience a story while receiving something which shall last for generations and accumulate some nice stories itself.