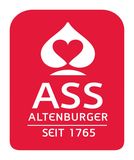 Spielkarten kommen seit so langer Zeit aus Altenburg, dass man die Produktion unter Denkmalschutz stellen möchte.
In Altenburg haben Kartenmacher eine lange Tradition. Erstmalige Erwähnungen sind im Jahr 1509 zu finden.
Aber erst 1832 wird die erste Spielkartenfabrik in Altenburg von den Gebrüder Bechstein gegründet. Diese wird  im Jahr 1996 von Ravensburger erworben.
Aus diesem historischen Erbe schöpfen die Altenburger bis heute und oft schaffen sie gestaltete Kostbarkeiten oder einfach eine Erinnerung an die eigene Kindheit.
Auch im internationalen Casinobetrieb verlässt man sich gerne auf die Qualität aus der deutschen Manufaktur und die besten Spielkarten sind so preiswert, dass deutsche Skatbrüder nie ein Blatt aus Fernost dreschen müssten.

2002 übernimmt  der internationale Spielkartenhersteller Carta Mundi die Spielkartenfabrik Altenburg von der Ravensburger Gruppe.
2003 erfahren die Marken ASS und Altenburger ihre Zusammenführung zur Marke ASS Altenburger.


Spielkartenherstellung in Altenburg 1990

Karten werden geschnitten


Brands with a long tradition can be found next to young designers, label and manufacturer names that you may never have noticed in the design sector. In today's world of products, a brand represents more or less justified consumer confidence in proportion to marketing budgets. Formost prefers to talk about use and a truly justified trust, and we test our manufacturers thoroughly. If you find a "Gute Ware" seal on a product, it is a branded product to our tastes.