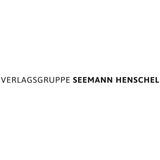 Gute Verlage finden sich immer noch - auch in Leipzig.
Manche sind klein und fein, andere jung und übermutig und dann gibt es noch die lebenden Legenden.
Seemann-Henschel ist sicher einer der Letztgenannten und steht wie kaum ein anderer Verlag für Bücher aus Kunst, Design, Tanz, Theater und Film mit einer populärwissenschaftlichen Ausrichtung, die immer auch wissenschaftlich sein darf. 
Wichtige Forschungsarbeiten und Museumspublikationen sind untrennbar mit diesem Verlag verbunden. Anspruch und lange Tradition der beiden großen Leipziger Verlage, bilden eine großartige Basis dafür.

Die Verlagsgruppe Seemann Henschel wurde im April 2003 von Bernd Kolf und Dr. Jürgen A. Bach mit der Übernahme der drei traditionsreichen Verlage Henschel, E. A. Seemann und Edition Leipzig gegründet.
E. A. Seemann ist Deutschlands ältester Kunstverlag, die
Edition Leipzig bewahrt bis heute die Kultur und Regionalgeschichte in schönen Büchern auf, und Henschel, der führende Theater- und Kunstverlag in der DDR, wird heute im gesamten deutschsprachigen Raum als verlegerische Heimat der darstellenden Künste geschätzt. 

Memo Olympiade während der Frankfurter Buchmesse 2014

Schaukasten im Haus des Buches in Leipzig
Brands with a long tradition can be found next to young designers, label and manufacturer names that you may never have noticed in the design sector. In today's world of products, a brand represents more or less justified consumer confidence in proportion to marketing budgets. Formost prefers to talk about use and a truly justified trust, and we test our manufacturers thoroughly. If you find a "Gute Ware" seal on a product, it is a branded product to our tastes.