Brands with a long tradition can be found next to young designers, label and manufacturer names that you may never have noticed in the design sector. In today's world of products, a brand represents more or less justified consumer confidence in proportion to marketing budgets. Formost prefers to talk about use and a truly justified trust, and we test our manufacturers thoroughly. If you find a "Gute Ware" seal on a product, it is a branded product to our tastes.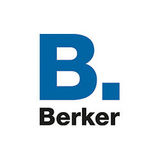 Berker hat Tradition. Eine Marke überzeugt seit 1919 mit herausragendem Design.

Auf unserer Suche nach wirklich guten Produkten werden wir nicht selten bei Herstellern aus dem Profibereich fündig.
Berker stellt seit 1919 in Schalksmühle Material für die Elektroinstallation her und nur ein kleiner Teil findet auch in privaten Räumen Anwendungsmöglichkeiten.
Viele Projekte wurden speziell mit Ingenieuren und Architekten umgesetzt und höchste Langlebigkeit und Funktionalität sind sozusagen die DNA von Berker.
Das schätzt man in der Autoindustrie genauso wie bei hochkomplexen Industrieanwendungen.
Dass Berker heute problemlos Schalter herstellen kann, die optisch 100 Jahre alt sind und in der Gegenwart in Funktionalität und Haltbarkeit keine Konkurrenz kennen, leitet sich direkt aus dieser großartigen Firmentradition ab.

Berker hat Tradition. Seit 1919 überzeugt die Marke mit hochwertigen Schalterprogrammen, deren erfolgreiche Designs mehrfach mit internationalen Preisen ausgezeichnet wurden. Langlebige Qualität und einfache Bedienbarkeit zeichnen sie aus. Das gilt auch für die Systeme der intelligenten Gebäudetechnik.
Die Hager Manufaktur ist die gemeinsame Manufaktur der drei Marken Hager, Berker und Elcom. Sie fertigen vom individuell konfigurierten Kabelkanal über einzigartige Schalter und Bedienelemente bis hin zur passenden Türkommunikation perfekt aufeinander abgestimmte Lösungen.