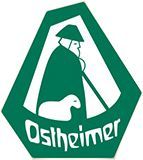 Der Weg vom Entwurf zum fertigen Spielzeug ist ein Weg hin zum individuellen, kindgemäßen Einzelstück.

So werden die Holzfiguren der Firma Ostheimer in Deutschland von Hand gefertigt.

Eine speziell auf Sicherheitsregelungen ausgebildete Mitarbeiterin ist stets auf dem aktuellen Stand derVorschriften und begleitet die Arbeit. So entsprechen alle Spielzeuge stets den neuesten Spielzeugsicherheitsnormen.

Auf hochwertige, umweltverträgliche Materialien zu achten, war schon immer Teil der Firmenphilosophie. Alle Materialien sind bewusst gewählt. Die Hölzer stammen aus nachhaltiger heimischer Forstwirtschaft. Sie werden mit ausgesuchten Farben und biologischen Ölen behandelt, welche die natürlichen Eigenschaften des Holzes bewahren und für das Kind erlebbar machen.

read more
Brands with a long tradition can be found next to young designers, label and manufacturer names that you may never have noticed in the design sector. In today's world of products, a brand represents more or less justified consumer confidence in proportion to marketing budgets. Formost prefers to talk about use and a truly justified trust, and we test our manufacturers thoroughly. If you find a "Gute Ware" seal on a product, it is a branded product to our tastes.