Schreibtischleuchte, SF 27
EEK: A++ (Spektrum A++ bis E)
A++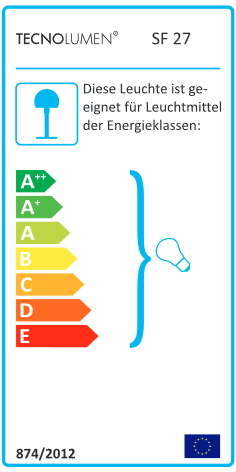 excl. Shipping costs
(Free shipping in Germany from a total value of 100 Euros)
3 % discount for prepayment (by bank transfer) : 561.63 €
You save 17.37 €
excl. Shipping costs
(Free shipping in Germany from a total value of 100 Euros)
3 % discount for prepayment (by bank transfer) : 471.96 €
You save 14.60 €
Achtung! Diese Ware ist eine Sonderanfertigung und vom Umtausch ausgeschlossen!
* Achtung! Diese Ware ist derzeit vergriffen!
Diese Ware kann nicht in unserem Onlineshop erworben werden. Bei Interesse kontaktieren Sie uns gerne.
Die SF 27 ist ein zeitloser Designklassiker aus den 20er Jahren, für mehr Eleganz und präzise Beleuchtung auf Ihrem Schreibtisch.
In den späten 20er Jahren gab es eine ganze Reihe sich ähnelnder Schreibtischleuchten, denen gemeinsam war, an verschiedenen Funktionspunkten verschiebbar oder drehbar zu sein. Designer wie Christian Dell, Ferdinand Kramer, Marianne Brandt oder Éduard-Wilfrid Buquet schufen Modelle verschiedenster Art. Das Original zu dieser Leuchte fanden Tecnolumen in Schweden, allerdings war es nicht möglich festzustellen, wie die Oberfläche beschaffen war. Es wurden deshalb die Oberfläche der Stäbe und Fußplatte verchromt, den Reflektor schwarz lackiert und die Funktionspunkte in Messing gelassen.

Alle Leuchten sind fortlaufend numeriert und tragen das Tecnolumen-Zeichen.
| | |
| --- | --- |
| Artikelnummer | SF27 |
| Dimensions | Fuß: Ø 21cm, max. 68 x max. 57 cm |
| Functionality | Schreibtischleuchte mit verstellbaren Gelenken, Lampe |
| Content | max. Leistung: AGL 75 W, empfohlenes Leuchtmittel ESL 15 W |
| Material | Metall verchromt, Gelenke Messing, Reflektor innen weiß, außen schwarz lackiert |
| Lamp socket/ Lamp | E 27, max. 75 W |
| Energy class | A++ |
| Year of creation | 1927 |
| Production place | Bremen, Deutschland |
| Hint | E 27, max. 75 W |
We believe that a truly good product is inherently beautiful and useful. This kind of beauty does not happen by accident though! At Formost we do not only find good products for you but we test them and tell the stories of the people behind these products. This way you experience a story while receiving something which shall last for generations and accumulate some nice stories itself.