Designer nannten sich mal Gestalter und später Formgestalter.
Da wirkliche schöne Dinge nicht zufällig entstehen und oft Hersteller und Designer Außerordentliches leisten, erzählt Formost von den Menschen hinter den Produkten. Der Designer, der ein kurzfristiges Modeupdate zur besseren Verkäuflichkeit als seine Kernkompetenz empfindet, kommt bei Formost dafür nicht vor.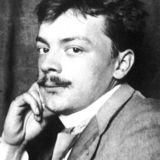 Koloman Moser ist ein wichtiger Teil der progressiven Kunstströmungen in Wien. Er beschäftigt sich mit allen Bereichen der angewandten Kunst und ist einer der wichtigsten Protagonisten des Wiener Jugendstils.
Koloman (Kolo) Moser studiert in Wien an der Akademie der Bildenden Künste und anschließend bis 1895 an der Kunstgewerbeschule Grafikdesign.
Neben Josef Hoffmann, Otto Wagner, Adolf Loos, Joseph Maria Olbrich und Gustav Klimt gehört Koloman Moser 1897 zu den Mitbegründern der "Wiener Secession", einer Künstlervereinigung, die sich aus Protest gegen den akademischen Kunstbetrieb vom Wiener Künstlerhaus abspaltet.
Gemeinsam mit Josef Hoffmann und dem wohlhabenden Bankier Fritz Wärndorfer gründet Koloman Moser 1903 die Wiener Werkstätte. Bis 1907 ist er mit Hoffmann deren künstlerischer Leiter.
Die Wiener Werkstätte umfasst alle Sparten des Kunsthandwerks und die angestellten Designer arbeiteten unter sehr sozialen und für die Zeit vorbildlichen Bedingungen.
Die in der Wiener Werkstätte produzierten Objekte tragen nicht nur das Zeichen des Gestalters, sondern auch das des ausführenden Handwerkers. Dies zeigt das Bestreben der Werkstätte, der Kunst und dem Kunsthandwerk gleiche Bedeutung zu geben. Gleichzeitig wird auf sehr hohe Qualität und beste Materialien geachtet.

Spiel der Wellen, Musterentwurf für Backhausen

Handknüpftepich, Musterentwurf für Backhausen

German Association of Craftsmen
We believe that a truly good product is inherently beautiful and useful. This kind of beauty does not happen by accident though! At Formost we do not only find good products for you but we test them and tell the stories of the people behind these products. This way you experience a story while receiving something which shall last for generations and accumulate some nice stories itself.