Designers once called themselves creators and later form-creators.
Since really beautiful things do not happen by chance and manufacturers and designers often achieve extraordinary things, Formost tells stories about the people behind the products and how they are made. The designer, who considers short-term fashion updates to be his core competence, does not appear in the Formost.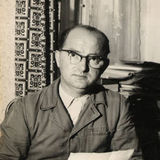 Die Geschichte um das Familienunternehmen und dessen Gründer O.J. Müller in Stützengrün ist mit Erfolg gesäumt. Seinem Unternehmergeist in krisengeschüttelten Zeiten verdanken wir heute die beste Nassrasur.
Gerade aus der Kriegsgefangenschaft zurückgekehrt, besaß Otto Johannes Müller 1945 den Optimismus, einen kleinen Betrieb zu gründen. Der Anfang war schwer, standen den Firmengründern doch kaum finanzielle Mittel zur Verfügung. In einer Waschküche wurden Borsten gekocht Tierhaare aufgearbeitet und neben Bürsten und Pinseln auch lebensnotwendige Dinge wie Lichter produziert, die aufgrund ständiger Stromsperren in jedem Haushalt gebraucht wurden. Die ersten Erzeugnisse verlassen Stützengrün noch auf Pferdefuhrwerken.





Die erste Belegschaft des kleinen Betriebs


Sortiment der 1950'er Jahre