Designer nannten sich mal Gestalter und später Formgestalter.
Da wirkliche schöne Dinge nicht zufällig entstehen und oft Hersteller und Designer Außerordentliches leisten, erzählt Formost von den Menschen hinter den Produkten. Der Designer, der ein kurzfristiges Modeupdate zur besseren Verkäuflichkeit als seine Kernkompetenz empfindet, kommt bei Formost dafür nicht vor.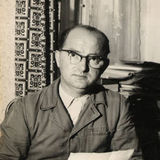 Die Geschichte um das Familienunternehmen und dessen Gründer O.J. Müller in Stützengrün ist mit Erfolg gesäumt. Seinem Unternehmergeist in krisengeschüttelten Zeiten verdanken wir heute die beste Nassrasur.
Gerade aus der Kriegsgefangenschaft zurückgekehrt, besaß Otto Johannes Müller 1945 den Optimismus, einen kleinen Betrieb zu gründen. Der Anfang war schwer, standen den Firmengründern doch kaum finanzielle Mittel zur Verfügung. In einer Waschküche wurden Borsten gekocht Tierhaare aufgearbeitet und neben Bürsten und Pinseln auch lebensnotwendige Dinge wie Lichter produziert, die aufgrund ständiger Stromsperren in jedem Haushalt gebraucht wurden. Die ersten Erzeugnisse verlassen Stützengrün noch auf Pferdefuhrwerken.

Die erste Belegschaft des kleinen Betriebs


Sortiment der 1950'er Jahre
German Association of Craftsmen
We believe that a truly good product is inherently beautiful and useful. This kind of beauty does not happen by accident though! At Formost we do not only find good products for you but we test them and tell the stories of the people behind these products. This way you experience a story while receiving something which shall last for generations and accumulate some nice stories itself.