Designer nannten sich mal Gestalter und später Formgestalter.
Da wirkliche schöne Dinge nicht zufällig entstehen und oft Hersteller und Designer Außerordentliches leisten, erzählt Formost von den Menschen hinter den Produkten. Der Designer, der ein kurzfristiges Modeupdate zur besseren Verkäuflichkeit als seine Kernkompetenz empfindet, kommt bei Formost dafür nicht vor.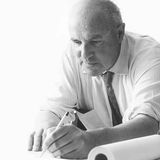 Der deutsche Architekt und Möbeldesigner gehört sicher zu den bekanntesten Gestaltern des 20. Jahrhunderts 
Der Architekt Eiermann hat auch im Möbeldesign eine Gestaltergeneration geprägt.
Er war der erste, der in Deutschland nach dem Zweiten Weltkrieg Serienmöbel entwickelte, die international beachtet wurden und ihm ist es zu verdanken, dass Deutschland nach den Jahren der nationalsozialistischen Isolation wieder an seine Vergangenheit (Deutscher Werkbund, Bauhaus) anknüpfen konnte.
Egon Eiermanns Architektur und Werk zeichnen sich durch Einfachheit, strenge Geometrie und direkte Erkennbarkeit aller Funktionen aus.
Zu seinen bedeutensten Schülern gehört der Architekt Oswald Mathias Ungers.
Mehr als 30 Bauten Eiermanns stehen in Deutschland unter Denkmalschutz.
read more
German Association of Craftsmen
We believe that a truly good product is inherently beautiful and useful. This kind of beauty does not happen by accident though! At Formost we do not only find good products for you but we test them and tell the stories of the people behind these products. This way you experience a story while receiving something which shall last for generations and accumulate some nice stories itself.