Designer nannten sich mal Gestalter und später Formgestalter.
Da wirkliche schöne Dinge nicht zufällig entstehen und oft Hersteller und Designer Außerordentliches leisten, erzählt Formost von den Menschen hinter den Produkten. Der Designer, der ein kurzfristiges Modeupdate zur besseren Verkäuflichkeit als seine Kernkompetenz empfindet, kommt bei Formost dafür nicht vor.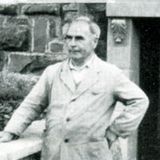 Prägte das Erscheinungsbild sämtlicher Figurationen von Marolin.
Etwa 1920 trat der aus Steinach stammende Modelleur Julius Weigelt (*1901, +1982), der an der Industrieschule in Sonneberg gelernt hatte, in die Firma Marolin ein. Von da an fertigte er allein die Modelle für das gesamte Figurenprogramm.

Während die Modelle von Richard Mahr in ihrer, ohne Zweifel tadellosen, qualitativ hochwertigen Gestaltung noch eher dem Nazarenerstil des 19. Jahrhunderts angehörten, orientieren sich Weigelts Modelle mehr an einem heimatlichen und volkstümlichen Stil, wie er ab den 20er Jahren beliebt war und unter anderem auch von Josef Bachlechner in Tirol vertreten wurde.

Julius Weigelt trug dadurch einen großen Teil zum Erfolg der Firma Mahr bei. Er war in einem ausgesprochen produktiven und schöpferischen Künstlerleben bis zu seinem Tod 1982 für die Firma tätig.
German Association of Craftsmen
We believe that a truly good product is inherently beautiful and useful. This kind of beauty does not happen by accident though! At Formost we do not only find good products for you but we test them and tell the stories of the people behind these products. This way you experience a story while receiving something which shall last for generations and accumulate some nice stories itself.