Designer nannten sich mal Gestalter und später Formgestalter.
Da wirkliche schöne Dinge nicht zufällig entstehen und oft Hersteller und Designer Außerordentliches leisten, erzählt Formost von den Menschen hinter den Produkten. Der Designer, der ein kurzfristiges Modeupdate zur besseren Verkäuflichkeit als seine Kernkompetenz empfindet, kommt bei Formost dafür nicht vor.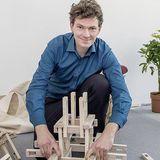 Das Spinifex Cluster Konstruktionsspiel wurde von dem Leipziger Nachwuchsdesigner Sebastian Kalies entwickelt. Inspiriert hat Kalies eine Form der Natur: Kristalle.

In Zusammenarbeit mit dem Mineralogischen Museum Freiberg entstand der Auftrag, mit Holz etwas zu entwickeln, das kristalline Strukturen für Kinder erlebbar macht. Das Spinifex Cluster war geboren. "Als Spinifex bezeichnet man eine Struktur aus der Kristallografie", erklärt Kalies. "Der Begriff Cluster beschreibt den Zusammenschluss zu einem Netzwerk ohne Hierarchie und Zentrum."
Geboren 1980 in Zittau studierte er zunächst Biotechnologie an der Fachhochschule Zittau/Görlitz, um sich dann der Produkt- und Objektgestaltung an der Westsächsischen Hochschule Zwickau zu widmen.
Seit 2011 ist er als Freier Gestalter in Leipzig tätig.

German Association of Craftsmen
We believe that a truly good product is inherently beautiful and useful. This kind of beauty does not happen by accident though! At Formost we do not only find good products for you but we test them and tell the stories of the people behind these products. This way you experience a story while receiving something which shall last for generations and accumulate some nice stories itself.