Designers once called themselves creators and later form-creators.
Since really beautiful things do not happen by chance and manufacturers and designers often achieve extraordinary things, Formost tells stories about the people behind the products and how they are made. The designer, who considers short-term fashion updates to be his core competence, does not appear in the Formost.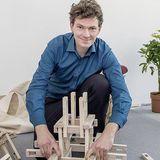 Das Spinifex Cluster Konstruktionsspiel wurde von dem Leipziger Nachwuchsdesigner Sebastian Kalies entwickelt. Inspiriert hat Kalies eine Form der Natur: Kristalle.

In Zusammenarbeit mit dem Mineralogischen Museum Freiberg entstand der Auftrag, mit Holz etwas zu entwickeln, das kristalline Strukturen für Kinder erlebbar macht. Das Spinifex Cluster war geboren. "Als Spinifex bezeichnet man eine Struktur aus der Kristallografie", erklärt Kalies. "Der Begriff Cluster beschreibt den Zusammenschluss zu einem Netzwerk ohne Hierarchie und Zentrum."
Geboren 1980 in Zittau studierte er zunächst Biotechnologie an der Fachhochschule Zittau/Görlitz, um sich dann der Produkt- und Objektgestaltung an der Westsächsischen Hochschule Zwickau zu widmen.
Seit 2011 ist er als Freier Gestalter in Leipzig tätig.