Marken mit langer Tradition finden Sie neben jungen Designerlabeln und Herstellern die Sie vielleicht noch nie im Designbereich wahrgenommen haben. In der heutigen Warenwelt steht eine Marke für mehr oder weniger gerechtfertigtes Vertrauen der Verbraucher in Proportion zum Marketingbudget. Formost spricht lieber vom Gebrauch und wirklich gerechtfertigten Vertrauen und prüft seine Hersteller intensiv. Sollten Sie unser Siegel "gute Ware" bei einem Produkt finden, handelt es sich um ein Markenprodukt nach unserem Geschmack.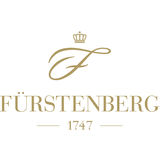 Als Hersteller des größten noch verfügbaren Sortiments von Wilhelm Wagenfeld ist Fürstenberg eine Kernmarke in unserem Sortiment.
Allein die Vasen sollten in keinem kulturvollen Haushalt fehlen!
(wenn wir uns etwas wünschen dürften)
1747 wird im malerischen Weserbergland erstmalig das Geschirr mit dem markanten blauen "F" hergestellt.
Nur zehn Jahre später hat sich Fürstenberg zum künstlerischen Zentrum seiner Zeit entwickelt. 1756 kann die Manufaktur in Braunschweig einen Zweigbetrieb für Buntmalerei eröffnen und gewinnt den bedeutenden Landschaftsmaler Pascha J. F. Weitsch für die Porzellanmanufaktur.
Aufgrund der hohen Nachfrage wird 1906 eine zusätzliche Malerei in Dresden eröffnet. Bei einer Überschwemmung werden 1923 die Brennöfen zerstört, eingeschränkte Produktionsabläufe sind die Folge.
Dennoch schafft es die Manufaktur mit Exporten in die USA, in den folgenden Jahren die Verluste der Weltwirtschaftskrise auszugleichen.
Damals wie heute gelten Produkte aus der Porzellanmanufaktur Fürstenberg als besonders exklusiv.
Unter höchsten Qualitätsansprüchen werden Tafelgeschirre und Designobjekte hergestellt, die klar durch Feinheit und Farbbrillanz überzeugen.
Für das Handwerkliche Können, Leidenschaft und absolute Präzision wird  die Porzellanmanufaktur immer wieder mit Auszeichnungen und Preisen geehrt .


Schloss Fürstenberg, ehemaliger Produktionsstandort der Manufaktur, heute Museum und Werksverkauf

Eine Vase und zwei Schalen aus der Edition Wagenfeld

Die Entwürfe von Wagenfeld haben alle einen klaren Zweck

Ein historisches Foto des Schlosses

Das Emblem aus Porzellan an den Pforten der Manufaktur
We believe that a truly good product is inherently beautiful and useful. This kind of beauty does not happen by accident though! At Formost we do not only find good products for you but we test them and tell the stories of the people behind these products. This way you experience a story while receiving something which shall last for generations and accumulate some nice stories itself.