Designers once called themselves creators and later form-creators.
Since really beautiful things do not happen by chance and manufacturers and designers often achieve extraordinary things, Formost tells stories about the people behind the products and how they are made. The designer, who considers short-term fashion updates to be his core competence, does not appear in the Formost.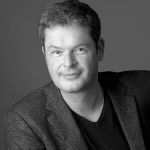 Kreativer Lifestyle - aber unvergesslich
Der Ingenieur und Designer kam schon früh mit hochwertigen Möbeln und Einrichtungsgegenständen in Berührung: Seine Eltern betrieben ein exklusives Möbelhaus. Seitdem lautet das Ziel Schifferdeckers, kreative und innovative Objekte zu entwerfen. In seiner Schulzeit erdachte er dann einen Zirkel, den er sich patentieren ließ. Charakteristisch für seine Entwürfe ist die stimmige Kombination aus Technik und Spielerischem.