Designer nannten sich mal Gestalter und später Formgestalter.
Da wirkliche schöne Dinge nicht zufällig entstehen und oft Hersteller und Designer Außerordentliches leisten, erzählt Formost von den Menschen hinter den Produkten. Der Designer, der ein kurzfristiges Modeupdate zur besseren Verkäuflichkeit als seine Kernkompetenz empfindet, kommt bei Formost dafür nicht vor.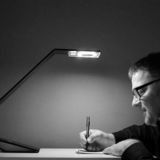 Professor & Designer - Raumkonzepte mit klarer Formensprache
Oliver Niewiadomski entwirft und realisiert innovative Leuchten, Produkte, Objekte und Raumkonzepte, mit klarer Formensprache, durchdachten Funktionen, raffinierten Details.
Geboren 1963 in Hamburg, lebt und arbeitet der international ausgezeichnete Designer in Bremen. Neben seiner Professur für Konstruktive Geometrie an der Bremer Hochschule für Künste, entwirft er Produkte und Konzepte in ganz unterschiedlichen Bereichen.
Das Design von Oliver Niewiadomski steht für logische Funktionen und hohe Produktqualitäten, die sich in einer klaren Formensprache wiederspiegeln.
In über 20 Jahren Berufspraxis wurden Entwürfe für Amiet, Audi, Bertelsmann, Caritas, Dolmar, Esquire, Etienne Aigner, das Fraunhofer Institut, die Freie und Hansestadt Bremen, Lamy, Offermann, Porsche Design, Siemens, Tecnolumen uvm. entwickelt.
Mehr Infos unter: http://www.on-d.de


Square Mehrzweckleuchte von Oliver Niewiadomski

German Association of Craftsmen
We believe that a truly good product is inherently beautiful and useful. This kind of beauty does not happen by accident though! At Formost we do not only find good products for you but we test them and tell the stories of the people behind these products. This way you experience a story while receiving something which shall last for generations and accumulate some nice stories itself.