Designer nannten sich mal Gestalter und später Formgestalter.
Da wirkliche schöne Dinge nicht zufällig entstehen und oft Hersteller und Designer Außerordentliches leisten, erzählt Formost von den Menschen hinter den Produkten. Der Designer, der ein kurzfristiges Modeupdate zur besseren Verkäuflichkeit als seine Kernkompetenz empfindet, kommt bei Formost dafür nicht vor.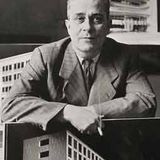 Oswald Haerdtl haben wir über seine noch heute produzierten Entwürfe für Lobmeyr endeckt. Die feinen Verbindungen zwischen Wiener Sezession und Werkbund zwischen Österreich und Deutschland werden wir bei Formost noch weiter verfolgen.
Nach dem Anschluss Österreichs an das nationalsozialistische Deutsche Reich am 13. März 1938 wurde er am Betreten der Hochschule gehindert. Ernsthafte Konsequenzen erwuchsen für ihn aus diesen Vorwürfen nicht, er betrieb allerdings subtilen Widerstand und ließ an der Rückwand seiner Klasse die Inschrift "Recht muß Recht bleiben" anbringen. Ab 1938 führte er parallel zu seiner Fachklasse für Architektur auch die Fachklasse für gewerbliche und industrielle Gestaltung an der Wiener Kunstgewerbeschule.
Die Auftragslage seines Ateliers war nach der Machtübernahme für längere Zeit schlecht und Oswald Haerdtl beschäftigte sich intensiver mit Produktentwürfen für Deutsche Werkstätten Hellerau, Berndorfer Metallwarenfabrik, Welz, aber auch für die Stadtverwaltung Mannheim und die Stadt Wien. Im besetzten Polen sah er Auftragspotential und eröffnete in Krakau ein Filialbüro, das kriegsbedingt später nach Breslau umzog.

Haerdtl engagierte sich sofort wieder beim Werkbund und mit Gespür für gesellschaftliche Veränderung forderte er eine intensivere Beschäftigung des Werkbundes mit Industrieprodukten, sowohl vom sozialen, politischen als auch gestalterischem Blickpunkt. Er begründete die österreichische CIAM-Gruppe neu, die durch die Emigration von Josef Frank und Walter Loos vor dem Krieg Ihre Vertreter verloren hatte.

read more

Doppelhaushälfte in der Werkbundsiedlung, 1933


Gestaltung der Fassade des Wiener Museum am Karlsplatz
German Association of Craftsmen
We believe that a truly good product is inherently beautiful and useful. This kind of beauty does not happen by accident though! At Formost we do not only find good products for you but we test them and tell the stories of the people behind these products. This way you experience a story while receiving something which shall last for generations and accumulate some nice stories itself.