Marken mit langer Tradition finden Sie neben jungen Designerlabeln und Herstellern die Sie vielleicht noch nie im Designbereich wahrgenommen haben. In der heutigen Warenwelt steht eine Marke für mehr oder weniger gerechtfertigtes Vertrauen der Verbraucher in Proportion zum Marketingbudget. Formost spricht lieber vom Gebrauch und wirklich gerechtfertigten Vertrauen und prüft seine Hersteller intensiv. Sollten Sie unser Siegel "gute Ware" bei einem Produkt finden, handelt es sich um ein Markenprodukt nach unserem Geschmack.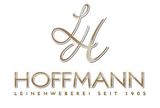 Feines Leinen und Oberlausitzer Leinendamast seit über 100 Jahre traditionell oder modern gewebt.
In alter Tradition webt Hoffmann feines Leinen und den Oberlausitzer Leinendamast.
Waren es früher der sächsische und österreichische Königshof oder Reedereien, sind heute die Kunden ganz unterschiedlicher Herkunft – und das sogar weltweit.

Im Jahre 1905 gründeten Fabrikant Karl-Gustav Schulze und Kaufmann Martin Hoffmann die Mechanische Weberei, Appreturanstalt, Konfektion und Kartonfabrik Schulze & Hoffmann. Von Anfang an spezialisiert auf Jacquardstoffe und Stickereien, wuchs das Unternehmen schnell.


Über viele Jahrzehnte hinweg hat sich die Leinenweberei Hoffmann einen umfangreichen Erfahrungsschatz in der Weberei und Verarbeitung von Leinengeweben aneignen können. Nach der Re-Privatisierung 1994, sichert zunächst ein Großauftrag der Bundespost das Bestehen des Unternehmens.
Heute wird in Neukirch sowohl mit traditioneller als auch mit modernster Technik zertifiziertes Leinengewebe in verschiedensten Farben und Mustern gewebt – natürlich Öko-Tex zertifiziert.
We believe that a truly good product is inherently beautiful and useful. This kind of beauty does not happen by accident though! At Formost we do not only find good products for you but we test them and tell the stories of the people behind these products. This way you experience a story while receiving something which shall last for generations and accumulate some nice stories itself.