Marken mit langer Tradition finden Sie neben jungen Designerlabeln und Herstellern die Sie vielleicht noch nie im Designbereich wahrgenommen haben. In der heutigen Warenwelt steht eine Marke für mehr oder weniger gerechtfertigtes Vertrauen der Verbraucher in Proportion zum Marketingbudget. Formost spricht lieber vom Gebrauch und wirklich gerechtfertigten Vertrauen und prüft seine Hersteller intensiv. Sollten Sie unser Siegel "gute Ware" bei einem Produkt finden, handelt es sich um ein Markenprodukt nach unserem Geschmack.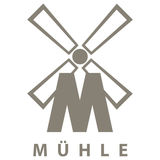 Mühle ist weltweit der einzige Hersteller für ein gehobenes Vollsortiment der Nassrasur.
Mühle - ein filmisches Potrait zur Herstellung, den Produkten, dem Standort. der Qualität der Mühle Produkte, den Menschen dahinter mit Sohn und den Enkeln des Gründers Otto Johannes Müller

Die Geschichte einer Marke

Ihren Namen verdankt die Marke, bis 2006 als MÜHLE-PINSEL bekannt, Otto Johannes Müller. Eine Mühle ziert seit 1945 als Signet die schlichten Borstenpinsel, die in einer Waschküche hergestellt werden.

Die Gründeridee lag nahe, das Handwerk des Bürsten- und Pinselmachens ist bei uns im Erzgebirge beheimatet. Die Erzeugnisse verlassen Stützengrün auf Pferdefuhrwerken. Doch wurden sie damals wie heute bis in die USA verschifft.

Zu Wirtschaftswunderzeiten kommen stilvolle Rasier-Accessoires wieder in Mode. Mitte der 50er Jahre z.B. entsteht die Idee für einen besonders exklusiven Pinsel aus Dachshaar mit Perlmuttgriff.

1968 übernimmt Hans-Jürgen Müller die Leitung des Familienunternehmens. 1973 wird der Betrieb verstaatlicht und geht in dem VEB Bürstenwerk Schönheide auf. Produziert werden preiswerte Waren vor allem für osteuropäische Märkte. Ihre Qualität bleibt weiterhin anerkannt. Doch müssen Design-Orientierung und Individualität der Marke in den Hintergrund treten.

Mit dem Ende der DDR 1990 erfolgt die Reprivatisierung: Der Grundstein für ein internationales Markenleben ist ein zweites Mal gelegt. In den kommenden beiden Dekaden erweitert sich das Produktprogramm zu einem hochwertigen Vollsortiment. Seit 2006 führen wir es unter der Dachmarke MÜHLE und einem neuen Corporate Design.

Die SAMMLUNG MÜHLE, ein kleines historisches Museum, öffnet 2006 ihr Pforten. Rund 1.000 Exponate aus 200 Jahren Geschichte berichten Wissenswertes und Kurioses über die Kunst der Rasur.

Die erste komplette Pflegeserie für die Nassrasur, MÜHLE SKIN CARE, wird 2008 vorgestellt. Seifen, Cremes und Lotions bestehen zu 99 Prozent aus pflanzlichen Rohstoffen, Bienenwachs und mineralischen Komponenten. Die Parfümierung besteht aus ätherischen Ölen und naturidentischen Stoffen.

In demselben Jahr eröffnen wir die MANUFAKTUR, den gläsernen Schauraum. Besucher können den Meistern ihrer Zunft über die Schulter schauen und erleben, wie mit Hilfe historischer Werkzeuge handgefertigte Unikate – Pinsel und Rasierer - entstehen.

Zum 65jährigen Jubiläum präsentieren wir die schönste und umfangreichste Kollektion seit Bestehen der Marke. Ihre Meisterschaft erweist sich in jedem Detail. Vom fein gefächerten Kopf des Silberspitz-Dachshaarpinsels bis zur Gravur des stilvollen Signets am Fuß eines Produktes mit der Wortbild-Marke MÜHLE.

read more
We believe that a truly good product is inherently beautiful and useful. This kind of beauty does not happen by accident though! At Formost we do not only find good products for you but we test them and tell the stories of the people behind these products. This way you experience a story while receiving something which shall last for generations and accumulate some nice stories itself.