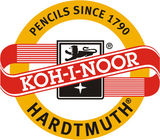 Koh-i-Noor is a globally active manufacturer of pencils from České Budějovice in southern Bohemia, Czech Republic.
In Hardtmuth's process, it was also possible to make pencils of six different degrees of hardness using different mixing ratios. 25 years later, his factory produced almost 2.5 million pencils per year, which at that time corresponded to 15% of the world's demand for pencils.

The First World War and the end of the monarchy meant losses for the company, but over time it was able to recover by establishing new factories in England, the United States, Yugoslavia, Romania and Poland. After the Second World War, the company was nationalised by the now communist Czechoslovakia, and the Austrian owners lost ownership of the company. Nevertheless, the descendants of Joseph Hardtmuth managed to re-open the pencil factory in Attnang and retain the rights to the name. In 1980 the company received the State Award and was allowed to use the Austrian coat of arms in business transactions. The Austrian Koh-i-Noor Hardtmuth AG went bankrupt in 1996; its production was partially taken over by the Cretacolor company.
read more

Produktionsstätte in Budweis, Tschechien

Die Bleistiftelinie Mephisto um 1900

Bilder aus der Produktion in Budweis

Bilder aus der Produktion in Budweis

Bilder aus der Produktion in Budweis

Bilder aus der Produktion in Budweis

Bilder aus der Produktion in Budweis

Bilder aus der Produktion in Budweis