Windmühlenmesser
A good knife is a tool for life - Windmühlenmesser knives ensure that the needs of their future users are met.
The traditional production in Solingen goes hand in hand with the close cooperation of international chefs and their experience with different cooking cultures.


Solingen is undoubtedly an important hub when it comes to knives. The soul of the Solingen cut lies in the blade, which is much thinner and more grounded than in industrial production. Windmühlenmesser knives are therefore almost unique in Solingen. While the manufacturer sticks to this traditional cut, many have already switched to other methods in Solingen. Traditionally, however, it is precisely this finely and precisely worked grinding pattern that has ensured the success and quality of the Solingen knives.

The woods speak their own natural language. Each knife has an unmistakable character - the handles are made of plum or cherry wood and all have their own grain and structure.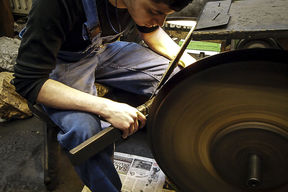 Baupliessten - eine uralte Tradition des Feinschleifens

Pließten ist der Fachbegriff und heisst so viel wie "Feinschleifen". Dazu wird die Klinge auf einer rotierenden Leder- bzw. Filzscheibe, die mit einer Schmirgelpaste bestrichen ist, von allen groben Schleifspuren, den sogenannten "Schleifriefen", befreit. So erhält die Oberfläche die feineren Riefen, die für die besondere Schneidequalität notwendig sind. Jegliche Unebenheiten werden korrigiert. "Feinpließten" und "Blaupließten" sind dabei verschiedene Arbeitsgänge. Beide sind sehr aufwendig, wobei insbesondere das "Blaupließten" die höchste handwerkliche Fertigkeit erfordert. Klingen, die "blaugepließt" sind, erkennen Sie an ihrem bläulichen bis regenbogenfarbenen Schimmer.
In den Zeiten, als es noch keinen rostfreien Stahl gab, war das "Blaupließten" das Exzellenzverfahren, um eine Klinge so fein zu glätten und zu verschließen, so dass sie nicht rosten konnten.


Blaupließten – Vor dem Pließten
® Windmühlenmesser-Manufactur

Blaupließten – Fertige Klinge auf dem Saum
® Windmühlenmesser-Manufactur

Fertige Klingen nach dem Blaupließten auf der Bank
® Windmühlenmesser-Manufactur