Designers once called themselves creators and later form-creators.
Since really beautiful things do not happen by chance and manufacturers and designers often achieve extraordinary things, Formost tells stories about the people behind the products and how they are made. The designer, who considers short-term fashion updates to be his core competence, does not appear in the Formost.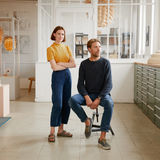 Niklas Jessen ist gelernter Zimmermann und studierte im Anschluss Architektur in Lübeck. Seine Projekte im Studium umfassten bereits erste Entwürfe, die Holz und Licht im architektonischen Bereich miteinander verbanden. Nach einigen Jahren Erfahrung im Bereich der Architektur sowie der erfolgreichen Teilnahme an zahlreichen Wettbewerben sehnte er sich nach einer praktischen Umsetzung, der Arbeit mit eigenen Händen und einer Verbindung von Handwerk und kreativen Entwurf. Mit der Gründung von Schneid im Jahr 2012 konnte er so auf einer greifbaren Ebene dem künstlerischen Entwurf begegnen. Sein besonderer Hintergrund und vielseitige Projekte an der Schnittstelle zwischen Architektur, Fotografie und Design, ermöglichen ein unkonventionelles und umfassendes Gestalten, das mit Arbeiten wie der Eikon oder der Zappy Leuchte bereits mehrfach ausgezeichnet wurde.

Julia Jessen studierte zunächst Literatur und Sprache in Berlin, lebte zeitweise in Paris und Toulouse und engagierte sich für soziale Projekte, indem sie unter anderem an einer Neuköllner Schule unterrichtete. Doch während des Studiums lebte nach einiger Zeit ihre ursprüngliche Leidenschaft für kreatives Arbeiten und künstlerische Projekte wieder auf. Über fotografische und filmische Arbeiten, Malerei und Grafik gelangte sie schließlich, beeinflusst durch Niklas, zum Produktdesign. Nach ihrem Abschluss des Master of Education gründeten sie daher gemeinsam das Unternehmen Schneid im Jahr 2012. Mit ihrem interdisziplinären Ansatz, der sich im Spannungsfeld zwischen Kunst und Design bewegt, wurden ihre Entwürfe bereits mehrfach ausgezeichnet und in Museen und Sammlungen aufgenommen.

German Association of Craftsmen
We believe that a truly good product is inherently beautiful and useful. This kind of beauty does not happen by accident though! At Formost we do not only find good products for you but we test them and tell the stories of the people behind these products. This way you experience a story while receiving something which shall last for generations and accumulate some nice stories itself.