Designer nannten sich mal Gestalter und später Formgestalter.
Da wirkliche schöne Dinge nicht zufällig entstehen und oft Hersteller und Designer Außerordentliches leisten, erzählt Formost von den Menschen hinter den Produkten. Der Designer, der ein kurzfristiges Modeupdate zur besseren Verkäuflichkeit als seine Kernkompetenz empfindet, kommt bei Formost dafür nicht vor.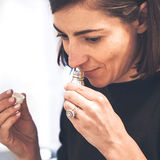 Parfumeur Créateur
Maries Geschichte beginnt mit einem Koffer der anderen Art in ihrem Heimatort Versailles: Während eines Schulpraktikums gab ihr ein renommierter Meister-Parfümeur einen kleinen Chemie-Koffer für Parfümeure mit dem Auftrag ein Duft-Tagebuch zu führen und schickte sie damit auf eine olfaktorische Reise, die ihr ganzes Leben prägen sollte. Diese Kindheitsbegegnung führte sie nach einem Chemie- Studium und der Ausbildung zum "Parfumeur Créateur" am Versailler Institut Ispica als Parfümschöpferin nach Paris.

Dort begegnete sie ihrem Mann Alexander Urban, der, geboren in Österreich, zwischen den großen Metropolen dieser Welt und den entlegensten Ecken der Erde für internationale Parfümhäuser auf Projektsuche ging. Die Leidenschaft für das Parfüm, und die Neugier nach unergründetem Terrain brachte sie zusammen auf einen neue Reise: Ihre eigene Parfüm-Manufaktur Urban Scents in Berlin. Marie Le Febvres Duft-Kreationen zeichnen sich durch eine reduzierte Opulenz aus, die sich in der Reinheit der Ingredienzen und der handwerklichen Liebe zum Detail ausdrücken.
German Association of Craftsmen
We believe that a truly good product is inherently beautiful and useful. This kind of beauty does not happen by accident though! At Formost we do not only find good products for you but we test them and tell the stories of the people behind these products. This way you experience a story while receiving something which shall last for generations and accumulate some nice stories itself.