Brands with a long tradition can be found next to young designers, label and manufacturer names that you may never have noticed in the design sector. In today's world of products, a brand represents more or less justified consumer confidence in proportion to marketing budgets. Formost prefers to talk about use and a truly justified trust, and we test our manufacturers thoroughly. If you find a "Gute Ware" seal on a product, it is a branded product to our tastes.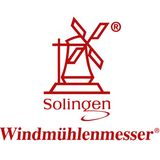 According to Robert Herder's motto "Thin, tough, nail-nailing - close to the edge..."

the maxim has been in place since the founding years.
Das Unternehmen Robert Herder GmbH & CO. KG wurde im Jahre 1872 von Robert Herder in Solingen gegründet. Im Zeichen der Windmühle werden seitdem die Messer von außergewöhnlicher Qualität und Form gefertigt. Windmühlenmesser werden heute noch genauso gefertigt, wie vor hundert Jahren. Die Maxime von Windmühlenmesser lautet: "Dünn, derb, nagelgehend- haarscharf auf der Wate..." (Leitspruch zu Schliff und Schärfe von Paul Herder).
In contrast to most knives of today, these windmill knives are still manufactured according to the "Solingen thin-ground" principle. In the case of the "Solingen thin section", the cutting angle is set high up, in contrast to what is common today.
The blade is ground thin and runs slim and very pointed towards the cutting edge.
The result can be seen in the exceptional sharpness and edge retention of windmill knives from Solingen. This traditional grinding method, which is still used for windmill knives today, is rarely found in Solingen anymore. This was once the reason for the high esteem in which Solingen knives are held worldwide, and it is still held today.
read more