Schneid haben und etwas wagen



"Having Schneid" is the German equivalent to "being bold" and this is the philosophy of this young company.

Their elegant and at the same time extraordinary lamps are full of innovation and the courage to create freely.

Since 2012, the sibling and designer duo, Julia and Niklas Jessen, have dedicated themselves to modern Nordic design. In interdisciplinary cooperation with young creative people and local manufacturers, they create lighting from natural and ecological materials.
Their entire creative process is imbued with the basic concept of creating fascinating objects with ethical value.
The result of their holistic understanding of sustainability are elegant luminaires of expressive colours and shapes.

Nach einem Entwurf von Julia Jessen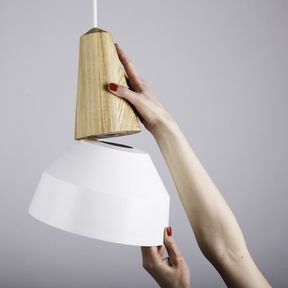 Zeit für individuelles Design.
Die modulare Serie bietet eine freie Wahl von Form, Farbe und Material.